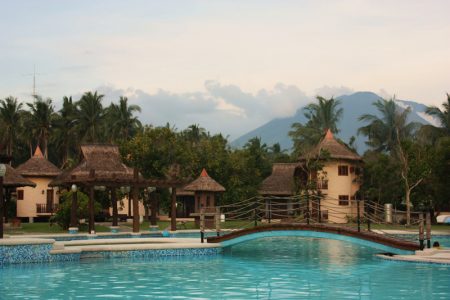 When Friday evening rolled around this week, Nick and I looked at each other and agreed that we'd spent one too many weekend in Manila recently.  We were already planning to make a drive down south on Saturday for a HUGE art sale, so we did some quick calling and found out that there were available rooms at Sanctuario De San Pablo, a resort 2 hours south of Manila (assuming good traffic) in the city of San Pablo.
In order to beat traffic (on a Saturday, mind you!) and be one of the first to arrive at Ugu Bigyan's Big Birthday Pottery Sale, Nick and I hit the road at 6:30 AM.  Traffic was fairly good, although we were surrounded by a strange assortment of fellow travelers (see photo above).  Not too safe, if you ask me…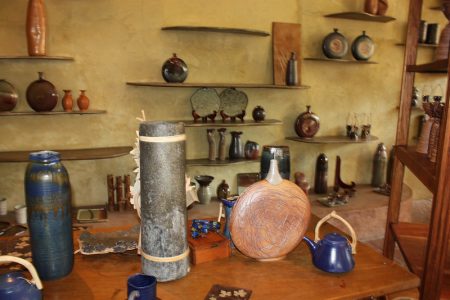 We arrived at Ugu Bigyan's Pottery Garden around 9 AM, ready to fill our basket with Ugu's beautiful pieces.  Before I tell you about Ugu and his Birthday Sale, I should preface this by saying that this place is VERY OFF-THE-RADAR.  In fact, our exact directions were to take a left at the second Iglesia Ni Christo Church, next to the tricycle stand.  Ugu Bigyan's work is so beloved that the lack of directional signage and street names did very little deter motivated buyers.
In fact, I was pretty peeved to get there and find out that the first buyers had shown up at 5:30 AM and that the majority of stuff was picked through by the time we got there at 9 AM.  Guess I should have known better since he was discounting his stuff by his age (47% off this year).  Wish I could say 'there's always next year', but there's not!  DANG IT!  I did managed to get a few lovely pieces, although nothing with his signature wood/pottery combo (check out the teapot above).  Alas, those are the breaks…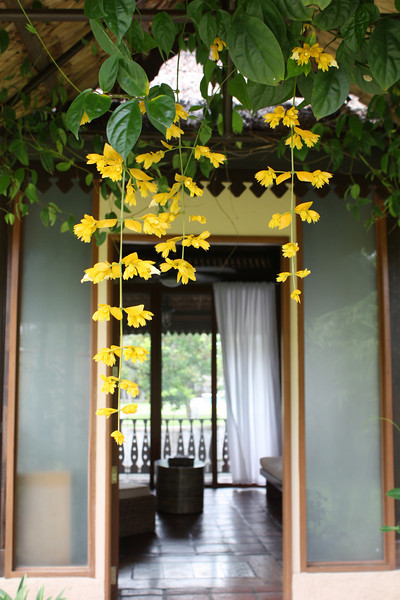 We left the sale a bit dis-enchanted but found our spirits rising immediately upon arrival at Sanctuario De San Pablo.  The charming property was exquisite and quite reasonable ($70 a night).  Our casita had the most beautiful flowers dangling in the doorway, which then opened into a living room/dining area that was decorated with contemporary Filipino furniture.  The bedroom gets my only complaint, as it had little natural light and a 'camp' bed (translation: insanely uncomfortable).  The Spa was also so-so for us, but that's most likely because we're so spoiled here in Manila with our spa options.  That being said, the beauty of the property far outweighed the negatives.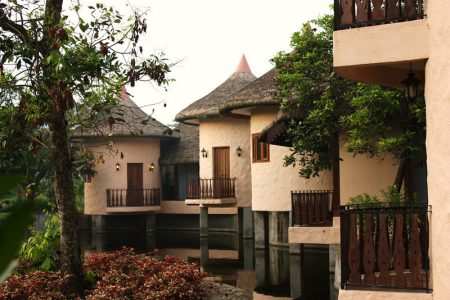 Here's a picture of the rooms we stayed in.  I loved that they looked like mini castles!  The decks were really nice to stand on in the evening as well.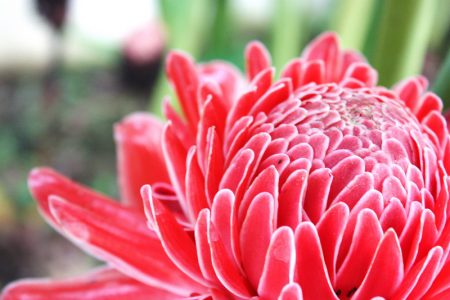 I managed to get some STUNNING floral shots around sunset on Saturday evening.  The lighting was dreamy.  Of course I had a hard time selecting what shots to feature here, so you should head on over to SMUGMUG to view the rest!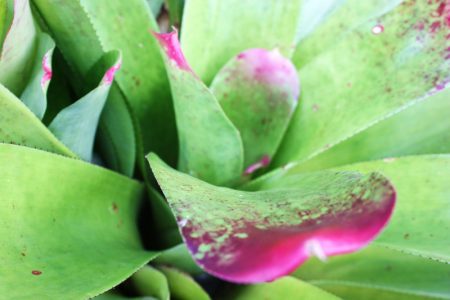 One of the highlights of our visit was an impromptu dinner date with two Filipino friends that live down in San Pablo.  I met Cris in summer of 2009 during Photography class.  I met his wife Wena six months later when Rachel and I day-tripped down to see the area.  They are such gracious hosts and I always look forward to our time together!  We are already planning our next visit to see them.  :)  I'll end with a great shot we took of the 4 of us at dinner.  How fortunate we are to have evenings like this… I am feeling completely refreshed and ready to start a new week!