My daughter is a drama queen.  Drama queen with a CAPITAL D.  Her intensity is unparalleled.  She can go from dawn to dusk and has recently decided that she isn't interested in sleeping (LUCKY US).
Last night she didn't feel like going to bed.  We insisted and let her cry a bit in her crib, hoping (praying, really) that she'd go to sleep.  10 minutes later she'd worked herself up into a gasping sobbing fit, so much so that when Nick picked her up, she vomited the contents of her bottle all over Nick and the room (wall, crib, floor – you name it, it got hit).
Now, one might instinctively think she was sick (which we did initially), but upon bringing her to our bed to recover, she was immediately cooing and ready to play again.  Oh yeah, and she didn't have a temperature.
Unfortunately for Lupe, Nia took the violence up a notch today – when she didn't feel like taking her nap, she expressed her displeasure by sinking her teeth into Lupe's arm!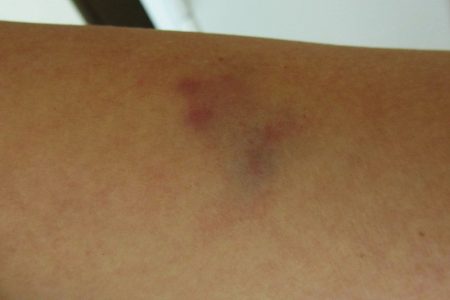 As you can see above, Lupe sustained quite the war wound.  I shudder to think what Ms. Nia will try next in an attempt to avoid sleeping….