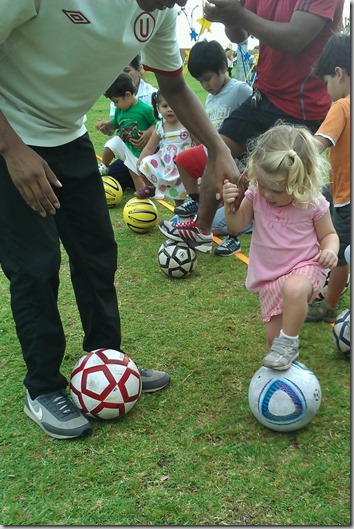 One of the things I will miss most when I leave Peru is a group called Miramoms.  This group grew organically from a desire to connect the Peruvian and Expat Moms of Miraflores.  While originally an email list, it has now expanded to include a website, Mom outings, Holiday parties and classes such as music and soccer (both of which we participate in).  We've been doing music class for a year and a half and that remains a favorite to this day.  Nia's recently gotten big enough to join the soccer class that meets once a week on the Malecon.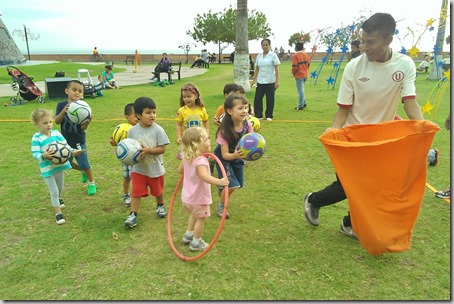 The instructors have a doozy of a time with her because she's a wee bit impatient and doesn't like to do what everyone else is doing (note in the above picture that she's chosen to use a hula hoop instead of the ball that everyone else is using).  You can't fault her for enthusiasm though – you'll frequently find her standing in the middle of the field shrieking with joy (never mind that she's supposed to be sitting over on the edge waiting her turn).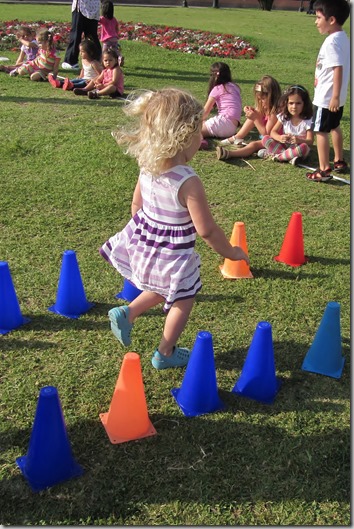 I should mention that soccer class isn't actually playing soccer.  It's more about using soccer balls and running through mini obstacle courses.  It's really quite perfect for the 2-4 year olds that attend.  God help whoever instructs Nia for her first organized sport….