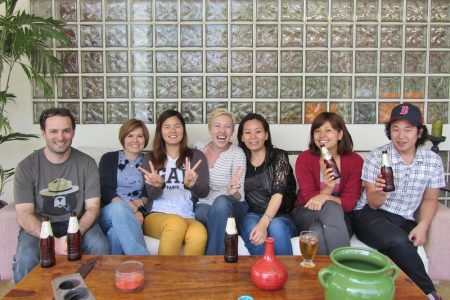 My first month of Spanish came to an end today.  The sad part is that most of these amazing people won't be in my next class (they're staying in the morning, I'm going to try afternoon).  The good news is that I PASSED!!!  No repeating Basic Spanish 3 for me!  I tell you, I was a nervous wreck, maybe because it's been so long since I've had an exam, but in the end Nick promised he'd still love me if I failed and I reminded myself that it was really about improving, not needing to be in a certain level.  Once I got clear on that, my anxiety eased up a bit.
We decided to throw a potluck on Tuesday to celebrate the conclusion of our exam.  The caveat was that you had to bring something from your country of origin.  If you'll remember back to my last post about Spanish class, we're made up of people from England, Japan, Korea, China, Canada, the US and Morocco!  Let me tell you, it was a worldly potluck indeed.  So much yummy food in one place!
I might be biased, but I think the Tator Tot Hotdish was the star of the day.  Only the Canadian had had it before (not even the other American, poor thing!) so it was pretty much new to everyone.  I wasn't sure if the Asians were going to dig it, but some of them even had seconds.  Makes my little Minnesota heart warm, I tell you!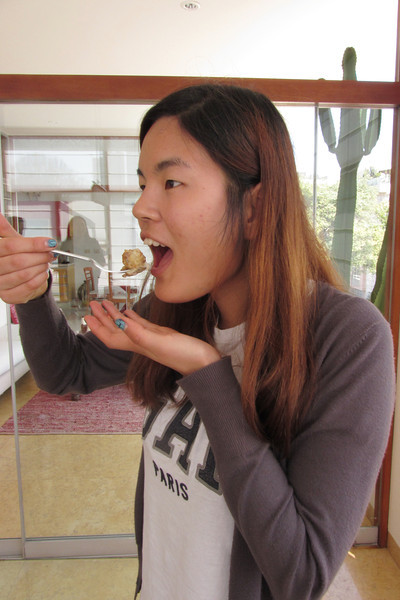 Here is Ms. Yunhee sampling her FIRST EVER bite of T Tot Hotdish!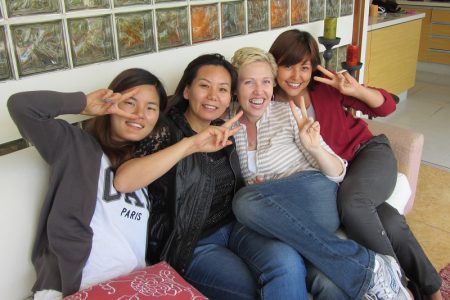 Here we are bonding on the couch.  I can't tell you how much I adore these ladies!  Our fiesta went close to 3 hours and even though I was sick to death of thinking in Spanish after the test, we had to continue speaking it as it's the only common language we all shared.  And for me, inclusion of others always wins over discomfort!  So Spanish it was… plus a whole lot of pantomiming!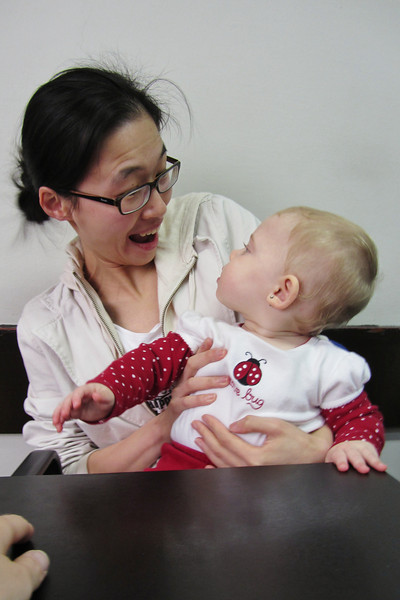 Today my Nanny was off, so I had to take Nia with me to class.  We were simply receiving our test results and finding out if we passed or not.  Since it was only 30 minutes, I figured Nia could make it.  As usual, she was a big crowd-pleaser.  Everyone decided she looked just like me (sorry Nick!)  She's not picky on who holds her as long as you give her your constant attention, so around the room she went!
I got a huge kick out of watching everyone interact with her.  Did I mention that I'm going to miss these guys????  :(  Here's to hoping we end up in the same class again down the road!  Next session starts on Tuesday – in the meantime, I'm taking a road trip with my honey!