I know we're new to this Foreign Service thing, but I have a hard time imagining that we're going to find household staff in other countries that love and care for us as warmly as Norma and Rudy.  I'm not lying, they feel like part of our family now and I'm going to cry buckets of tears when we have to leave them.  It's hard to express gratitude to someone who lovingly takes care of you day-in-and-day-out, so when I dreamed up the idea of a staff party for their families, Nick was quick to agree since family is one of the most treasured things here in the Philippines.  And so it came to be that we had the pleasure of hosting Norma's daughter Norland and Rudy's daughter Mary Jean and his grand-daughters Marie and Ren Ren last night!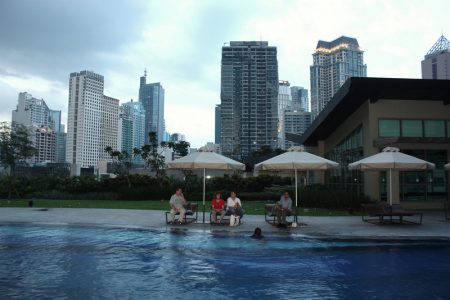 We started out with a swim down at our pool.  Marie and Ren Ren were really into the swimming, but little Norland chose to spend her time in the playroom.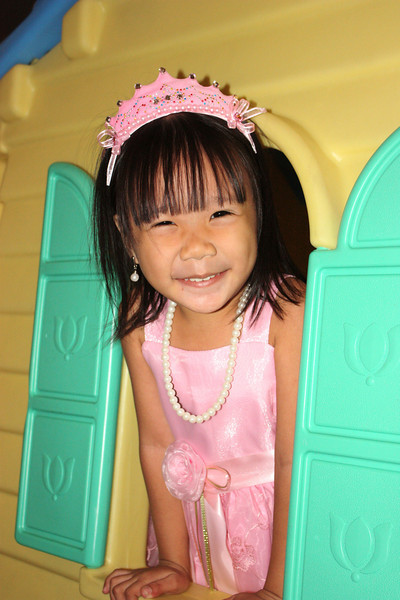 We stayed outside until it started to get dark and then headed upstairs to enjoy a little Yellow Cab Pizza.  Dinner was followed by presents, both from Nick and I AND Robert and Joyce.  It was so much fun to spoil them all!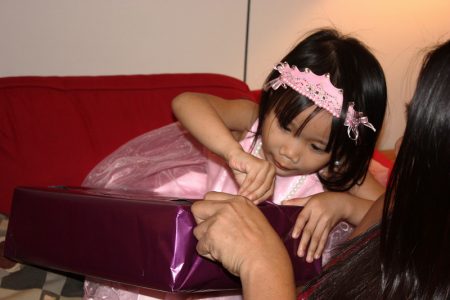 Norland got an art set from Robert and Joyce (whom Kuya Rudy affectionately named Father and Mother) and a Princess Dress from Nick and I.  Here she is with Norma showing off her beautiful new dress!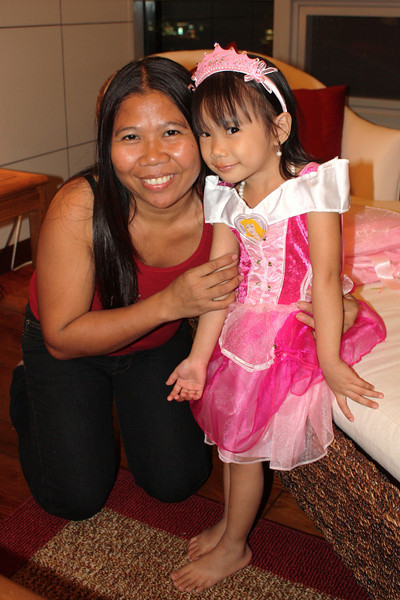 Ren Ren and Marie opened up a wallet, mirror and watch combo from Robert & Joyce and a Bingo set from Nick and I.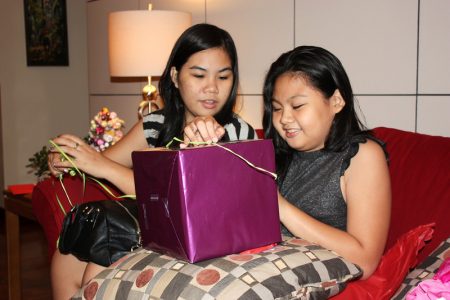 Mary Jean opened up a set of movie tickets for all of them to enjoy.  Kuya was my favorite to watch though.  Nick and I got him DKNY cologne and he was so excited that he kept kissing the bottle.  It was hilarious!  And then there was the near heart-attack when he opened Robert & Joyce's card and money fell out….  :)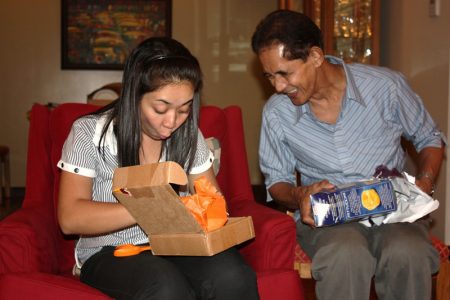 When all the fun was coming to an end and little princesses needed to go to bed, we capped off the night with some adorable group pictures to keep as souvenirs.  I plan to make Rudy and Norma copies so that we can all have memories of each other.  Here are two of my favorite group shots that we got: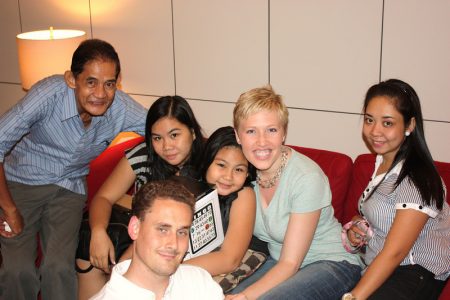 As you can tell from the photos, we had an absolute blast honoring our staff in this way.  I am so thankful that we had a chance to show our appreciation for them and encourage other expats to consider doing something similar.  One last thing — I shot a ton of great pictures, many of which I couldn't include here… so if you're itching to see more, just venture over to SMUGMUG to see the gallery!