It was a big weekend in the Miller Household.  Emily Miller (second oldest) married her superstar guy Andrew Sullivan.  Since these events only come around once in a lifetime (hopefully), it needed to be an extravaganza that lived up to the Miller standard.  With Emily's unique vision and creativity, there was little doubt that it would fit the bill.  The only question was whether the free help (us) would survive the MONTHS of crafting it took to put this celebration on.  More on that later…
I should note that these are not my photos and give credit to Pam Huntley, Emily's wedding coordinator.  We haven't seen any photographer proofs yet, so this is the extent of what we have!
Now, on to the details.  The wedding was held on Friday, June 24th at 5 PM at the Stillwater Courthouse in Stillwater, Minnesota.  As any Minnesotan would know, it had been a CRAPPY weather week and we literally had winter coats on for the outdoor rehearsal Thursday night.  Magically, the temp went up 20+ degrees and the sun came out for Friday, making it one of those ideal MN summer days!  The Lutheran ceremony was held on the steps of the Courthouse, as seen above.  The cocktail hour took place on the right side of the building, followed by dinner and a dance in the upstairs level (the old Court Room).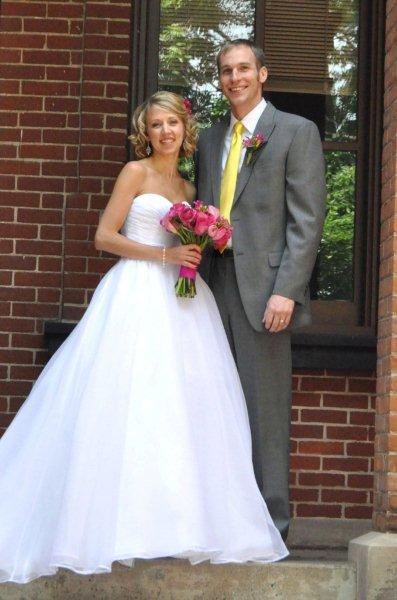 Ms. Emily, with her Barbie-like silhouette, looked particularly stunning in her princess dress.  Andrew didn't look so bad either, especially in those Converse tennies!
The colors for the wedding were yellow, blue and pink.  Even the Personal Attendant (shown at far left) knew that the palette was to be strictly adhered to!  I was thankful for the maternity-friendly dress (I'm the third bridesmaid from the top).  We'll get a closer shot of my dress once the professional proofs come back.  Note the adorable kissing balls which were made entirely of carnations and weighed close to a billion pounds (okay, more like 10).  After 30 straight minutes of holding it my bicep had gotten quite the workout!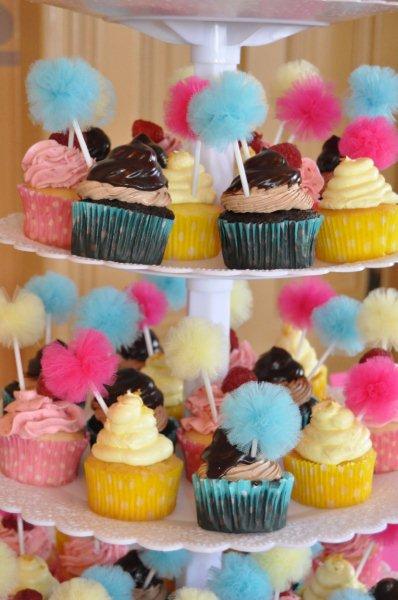 As I eluded to before, everything about this wedding was hand-made.  Me, I'm more of an outsourcing kind of girl.  Emily had different ideas though (and with our large family, a sizeable workforce).  I must say I was thankful that I only joined in with 3 weeks to go.  The rest of the family had been going strong since January!  I must say though, the final product was stunning.  Take these cupcakes (above), for example.  They were made by a stay-at-home Mom and adorned with pom poms that we made out of thread, tulle, and a stir stick.  Yes, they did take forever, just in case you were wondering.
Unfortunately, I don't have pictures of the other things that were handmade: The programs, the invitations, the table runners, the table numbers, the kissing wheel, the floral arrangements, etc.  If you could make it, we did!
Being a Preschool Teacher, Emily had dreamed up a very whimsical, child-like theme.  I called it the "Willy Wonka Look".  I must say I was skeptical at first, but wow did it come together beautifully.  Here's an example of the place cards (each with a Lollipop attached).  The Teacher influence came out in other cute ways as well.  Each table had a letter with a story on it.  For example: "A is for apples.  Apples are Andrew's favorite fruit."  You get the idea…
They also served up miniature Ketchup and Mustard bottles as their favor because Andrew works for a condiment distribution company.
One of the craziest things that happened was that we had legitimate wedding crashers ( a couple in their early 20's). Normally I think that they would have gotten away with it, but Emily has hawk-like vision and was determined to remember every moment of their wedding.  So she took notice of them later in the evening (as they were drinking some wine and enjoying a cupcake) and started asking around to see who they were.  No one seemed to know and she made no attempt to hide her vigorous pointing at them (which made them start looking nervous).  She finally sent my Mom, Ms. Janet, over to greet them.  Just as Janet was striding purposefully over, the wedding crashers jumped up and bolted down the stairs!  Quite possibly the most exciting thing that's ever happened at one of our events!!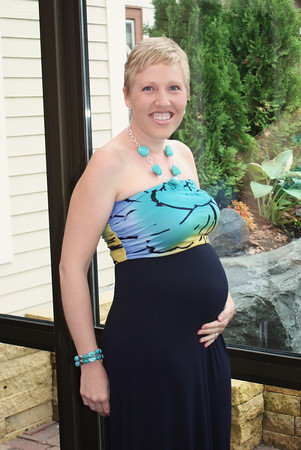 Finally, I leave you with a picture of me from the Groom's Dinner.  I'm 23 weeks now and starting to sport a legitimate belly.  Even though I had my Bridesmaid Dress fit only 2 weeks ago, we could barely get it zipped up!  Yikes!  Baby Nia did enjoy all the dancing and eating though…
More pics to come when we get them!