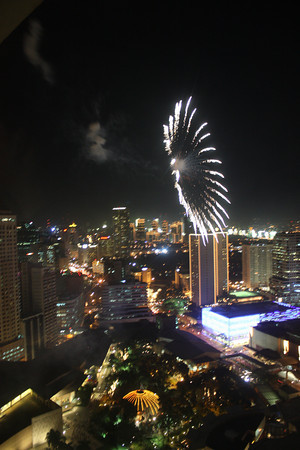 Ah, what a strange time it's been lately.  Holiday events wrapped up around the 15th because 50-60% of the expat population was going home.  I was doing really well up until the activity stopped and have fallen Grinch-y place over the last few days.  It's just not fun when all the things you associate with Christmas are missing – like snow and sweaters and fires and wild rice casserole.  And then there are the strange things that show up – like the fireworks show pictured above that takes place right next to us each and every Friday in December.  So weird – Christmas & fireworks?  WRONG HOLIDAY PEOPLE.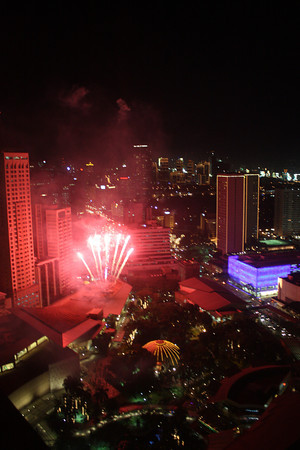 Yes, I'm crabby.  And homesick.  But it will pass (because I'm working on an attitude adjustment).  There's just so much ambiguity surrounding this first holiday away (and my first one EVER with Nick).  Nothing like longing for the familiar when you can't have it.  And so we adapt.  Here's our current schedule for the 24th and 25th:
Afternoon of the 24th: See Avatar in 3D
Evening of the 24th: Open 1 Present (Nick's stupid rule- I'd open more), Dinner at a local Hotel & 10 PM Mass
Morning of the 25th: Skype with our families, Open the rest of our presents
Afternoon of the 25th: Host an Open House potluck for anyone that doesn't have a place to go for Xmas
Seems like it should be a decent itinerary for our first year.  I wonder which traditions with stick!?
This week I treated myself to the ultimate in massages, the one I've been saving for the perfect occasion, just like a bottle of good wine.  Being that I needed a little Christmas pep-me-up, I decided the time was NOW.  I went over to my second home, The SPA at Greenbelt and requested the Twin Massage.  That's right, you guessed it, two massage therapists working on me at the same time!  And for the unbelievably low price of $30!
SOOO indulgent.  One on the top half and one on the bottom for a full 60 minutes.  So unique…
It was borderline sensory overload for me.  Since I already have problems focusing for any amount of time, it was virtually impossible to try to ease myself into a calm place with that much activity going on.  But boy did my body feel good afterwards, even if I didn't get to the "ohm" place that I usually find during a massage.  Definitely a must-try for those of you coming to visit!
PS- I added in a whole bunch of links to other foreign service blogs!  You'll find the hyperlinks in the right column.  Enjoy!