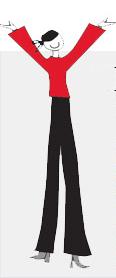 Today was a big day.  It was the start of my pro-bono coaching work at Carewell, a local Cancer Resource and Wellness Community.  If you remember back, I found Carewell in the midst of a personal crisis.  Or maybe I should be cliche and say that Carewell found me.  Well, no matter who found who, it seemed fortuitous that we had been united.
Consequently, I had been anticipating the start of our work together for quite some time and I was afraid that this would be one of those instances that got marred by what I term "The Prom Effect".  Per my definition, "The Prom Effect" is when you build something up in your head to be larger than life; magical; or earth-shattering.  Let's just say that this has been a frequent pattern in my life and that I was somewhat scared that Carewell would fall victim to it as well.  Yet I remained cautiously optimistic…
And amazingly, it came through.  There was excitement…and energy…and instant connections…and dare I say it, even MAGIC.  It was grand.  I was exactly where I was supposed to be.
So what was this magical affair, you ask?  Nothing more than an information session about the basics of coaching.  Surprisingly, it managed to pack in quite a crowd, with only a few seats open in the very back of the room.  It was a wonderful mix of cancer patients (Carewell's members), doctors, caregivers and members of the local community that support Carewell.
And what a crowd they were!  The questions came fast and furious and I found myself delighted to have such an interested audience.  Maybe I do like this public speaking thing!?  All I can say for certain is that it felt wonderful to welcome all these curious souls into my beloved world of coaching.  Let the fun begin!