Last night was a big one for the Novak family – our first ever Marine Ball!  Just to give you a little history, the Marine Corps Ball is an annual event that is celebrated each year on the Marine Corp's Birthday.  This year happened to mark its 240th birthday and celebrations will be going on at each post around the world within a week's time span.  The reason that this event is so closely linked to the Embassy community is that, quite simply, the Marines are the ultimate protector of the Embassies worldwide.  This celebration is a chance to honor them for the commitment they make to keeping our Embassy community safe!
In the Embassy world, this is the biggest day of the year to get dolled up.  Women start early – getting hair, make-up, and nails done throughout the day.  Over half of my friends were also having their dresses made.  They started back in August and worked with a local designer to come up with their creation.  As some of you know, I really wanted to get one made but Nick forced me to choose between getting the Chaise Lounge or the new dress.  We all know which won out.  I still think I made the right choice… So when the afternoon rolled around, I confidently slipped up my 11 year old Senior Prom Gown to storm the ball!  Added in an heirloom from the wedding (my flower) and I was all set to go…
Thankfully, I have the most skilled helper EVER and in a previous life she trained to be a nail technician.  This is a shot of her doing my manicure, after finishing my pedi earlier in the day.  Note the awesome beach chair, which has never actually seen a day at the beach yet, but works amazingly well for nails!  :)  Norma is also getting lots of photography lessons from me so that she can feel comfortable shooting pictures of us with the SLR camera.  She's making great progress!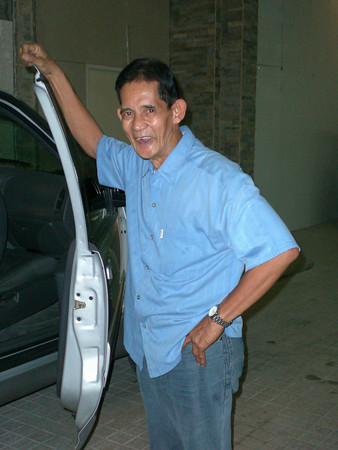 I've gotten many requests for a picture of Rudy – so here it is!  Rudy, is our dashing chauffeur.  He fills in as an excellent grandfather-like figure as well, passing me a hard candy every time I get in the car.  We feel so lucky to have him!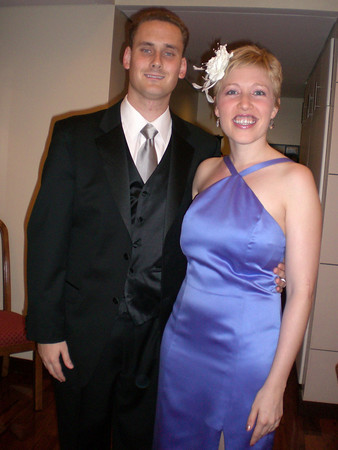 Here's a shot of Nick and I before we left for the ball.  There was a 6 PM reception, a 7 PM program, 8 PM dinner and then dancing until 1 AM.  We were a bit  pathetic and bowed out around 10 PM due to flu recovery but we still feel like we got the essence of the evening.  And it doesn't feel quite so critical to stay when you factor in that we'll be going to this event for the next 20 years!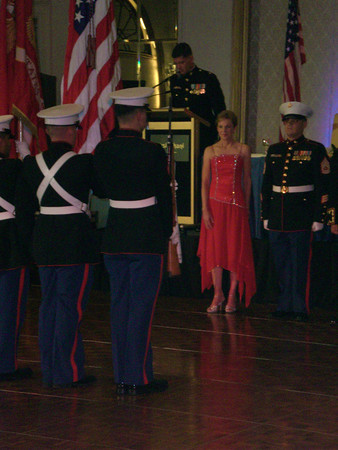 This was the formal ceremony part.  The color guard marched in and honored Ambassador Kristie Kenney, the honorary guest of the evening.  Then there were speeches, movies and the pinacle of the event – THE CAKE CUTTING!  I have never seen anything like this cake cutting before.  It started when they pushed in the largest cake I've ever seen in my life.  The thing is, it reminded me of a casket procession – they were completely stoic as they guided the wheeled cart in and flanked each side.  I couldn't stop giggling (very undiplomatic of me).  The strange ritual continued as a Marine pulled out his sword and began to slice the cake.  I think my mouth dropped open here.  The Ambassador got her piece of cake first.  No sooner had she taken one bit than a Marine whisked it away from her.  The next part of the ritual was where the oldest Marine in attendance took a bite and then the youngest Marine took a bite.  (BTW, the youngest marine in attendance was born in 1988 – WHOA)  What floored me was that the whole thing was done with sharp turns and salutes and crisp arm movements.  It was hard to fathom that we were watching them eat a Birthday Cake!  (Sadly, more giggling on my end).  At the end we all shouted HURRAH! and then there was more marching to finish our celebration.  Definitely an experience to remember!  Here's a picture of the wheeled cake being cut with the sword: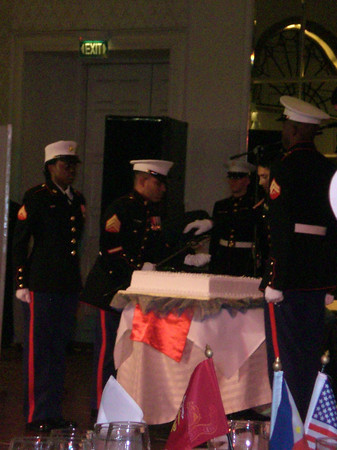 Finally, here's a shot of my hubby looking just as good as the day we got married!  :)  I sure love seeing him in a tux!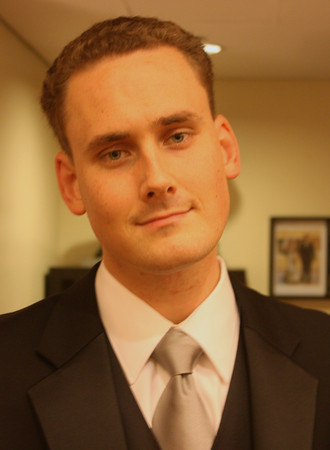 Didn't think I looked to bad myself.  The slit was a bit higher than I remembered and required some strategic napkin placement during dinner.  But other than that, I felt like I rocked the 1998 Prom gown!  Uh huh- I am 29 and feelin' fine!  As always, LOADS more photos on SMUGMUG!