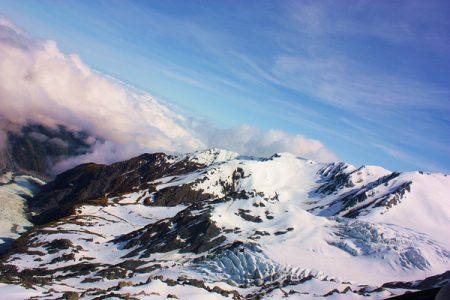 I know I said that sailing past the Sydney Opera House was as good as it gets, but I'm going to have to retract that because the last 24 hours topped it.  This last day was out-of-this-universe good and it was all because of my fab husband, who put hours and hours of research into the planning of this trip.  It's also because of a little thing called luck… here's how it played out:
We arrived in Hokitika (western coast of the southern island of New Zealand) around dinnertime Friday night.  Nick had reserved a beachfront cottage at Shining Star Resort.  Since it came equipped with a balcony, we decided that we would maximize the opportunity with a wine and cheese dinner in front of the ocean.  Surprisingly, this was the first time we've ever done it but it's sure to become a tradition now because of how much we enjoyed it.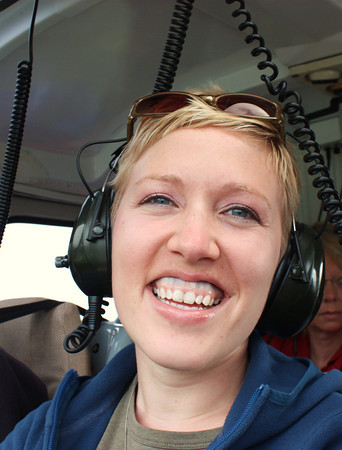 The next morning we got up and made the 1-1/2 hour drive to Franz Josef for our 40 minute Helicopter Tour of the Glaciers and the Southern Alps.  Here's where the luck part comes in.  The weather is VERY IFFY during this time of year and your ride can be cancelled on a dime.  Not only were we not cancelled, but we had the dreamiest, bluest skies that you could imagine!  And then, to top it off, the attendant put Nick and I in the front seat.  Truly, it was like being at the Imax as we crested a peak and the bottom dropped out beneath us!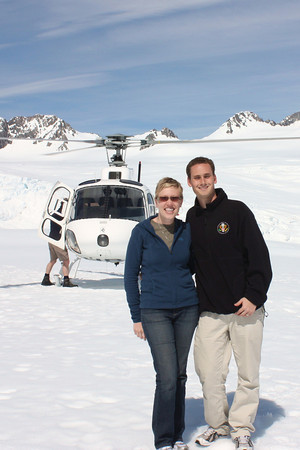 I've always dreamed of going in a helicopter and with this scenery, I was definitely expecting this to be the highlight of the trip for me.  I was feeling nervous heading into it, not because I was scared, but because my expectations were so high.  Unbelievably, it was more magnificent than even I dreamed possible.  Time just evaporated as we soared through the sky.  In fact, I enjoyed the 'helicopter experience' so much that I've been trying to convince Nick all day to get his license so we can do it more often!  You just wait, I'll convince him in time…  :)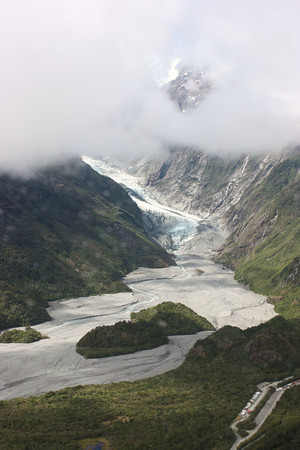 The highlight of the experience was landing for 10 minutes on top of the glacier.  It was such a surreal experience!  Nick took lots of video of our ride and has promised to make a video for all you wonderful blog readers who are unable to get to New Zealand in the near future.  I have no idea when it'll be done, but watch for it, okay?