Hey folks – Welcome to this Tuesday's edition of Tech Tuesday.  Today I've got a real winner that's going to make your email management a WHOLE LOT EASIER.  Let me tell you about it.
Unroll.me is a service that combines all of your subscriptions, newsletters and social media updates into 1 DAILY EMAIL.  Cool huh?  Here's what my rollup looked like today when it arrived in my inbox.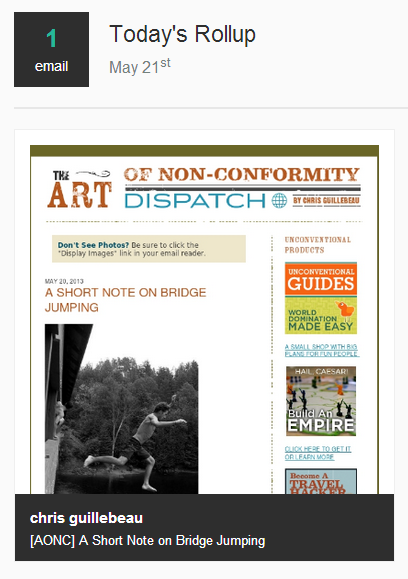 From there, you can simply click on any of the subscriptions and it'll take you to your unroll.me dashboard which looks like this.  There you can view all your current subscriptions, unsubscribe with one click and choose your delivery preferences.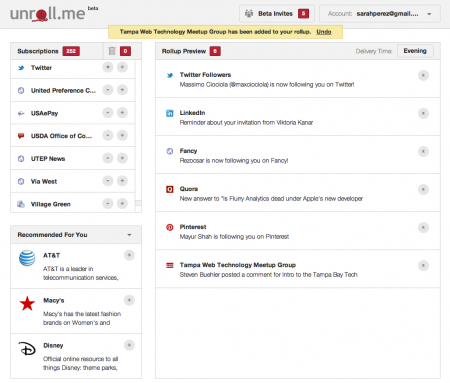 My other favorite feature of unroll.me is the ability to view subscriptions by category (because I know that I, for one, have a tendency to sign up up for way too many subscriptions).  For example, here are all the daily deals that came in to this person's email on that day.

A couple more things you should know:
Unroll.me is currently ONLY AVAILABLE for GMAIL and YAHOO EMAILS.
You don't need to do anything to add your subscriptions to the rollup.  Unroll.me will automatically add them.  The only thing you may have to do is switch your email preference in your subscriptions so that they all go to a Gmail or Yahoo Account.
CLICK HERE TO GET YOUR OWN DAILY ROLLUP
So, what do you think?  Are you going to sign up???