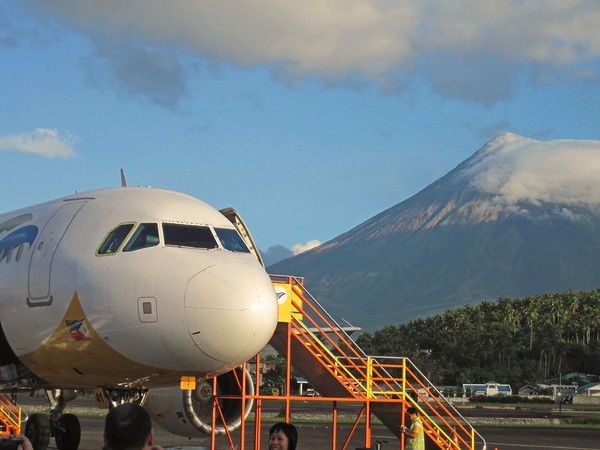 On Monday we got back from what could surely be titled one of those "once in a lifetime" adventures.  We had left early Saturday morning and flown to Legazpi, on the Southern part of Luzon, the island where Manila is located.  When we disembarked the plane we were greeted with a view of stunning Mount Mayon volcano.  She was even in a good mood, letting us have a view of her famed tip, often referred to as the perfect cone.  It was breathtaking and hard to believe that she was ready to explode less than 2 months ago.  Our thanks to her for letting our trip go off as planned!
From Legazpi it was a 1 hour drive to Donsol.  Donsol is the intersection of a large river and the ocean, creating an area rich with plankton that the whale sharks love to feed on.  And this is why they camp out here for so long, because like humans, good food is worth hanging around for!
We stayed at Woodlands Resort, one of the  3 in the area.  Nothing fancy, but it met our basic needs.  You should have seen our excitement when we got a solid 3 minutes of hot water (something we've yet to experience at the 3 other Philippines resorts we've stayed at)!  Between that and a decent bed, we were set.  Basic needs aside, it was time to focus our attention on the feature attraction, the beloved Butandings (the Filipino name for whale sharks).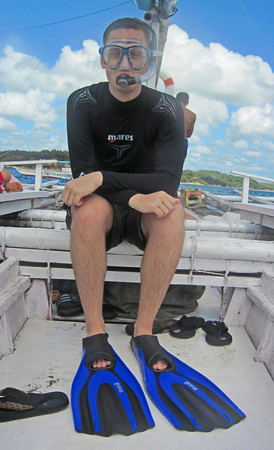 We were each assigned to a boat with 6 people in it.  Now, mind you, I was filled with plenty of apprehension on the first day.  I'm not a big physical activity person to begin with and on top of that, I strongly dislike getting wet (which my family can highly attest to).  Not a good combination.  I was thinking it'd be a miracle if I could manage to get myself over the side of the boat (flashback to my scuba failure).
Here's how the process worked.  We had a Butanding guide that was a trained spotter and swimmer.  He could pull us along if we got tired.  He would stand at the front of the boat and look for large shadows in the water (indicating a whale).  He would then give a signal and we had about 1 minute to get our gear on and get all 6 of us seated on one side of the boat, perching on a 2 inch wide ledge (while the boat was still moving).  Not the safest thing I've ever done!  Then he'd shout GO GO GO and we had to plunge into the ocean in the next 5 seconds and swim furiously behind him.  Then, all of a sudden he'd stop and point down.  We immediately plunged our faces into the ocean and lo and behold, a bus-sized whale was coming directly at us.  It was the wildest thing.  Here's an example of what our first glimpse looked like: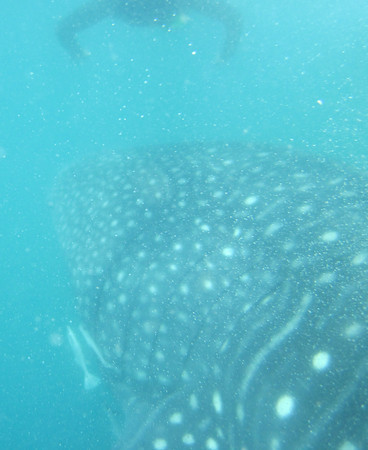 No lie, the thing was about 5 feet from us and didn't mind one bit!  Notice the murky water – that's because of all the plankton in it.  That made it tricky because you wouldn't notice it was there until you were practically on top of it!  Now, upon locating the shark, you needed to immediately regain your composure and begin swimming with it in order to keep up with the 1-2 knot pace that it goes at.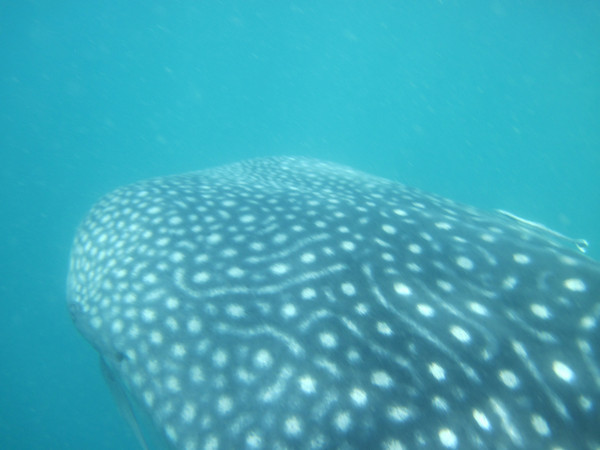 I liked to start near the head (pictured above) and then allow my self to slow gradually and move down the length of it.  This is going to sound odd, but the thing it most reminded me of was swimming with the sea turtles in Hawaii.  Yes, it's mammoth, but it's a gentle giant.  There were periods when we'd be swimming alongside it for 20-30 minutes and at times you could forget that others were around you.  It was as if time was suspended and it was just you and the whale moving in sync with the water drowning out the chaos above.  Pure magic.
And just about the time when you'd forgotten that other people existed, you'd get kicked in the head with a flipper by some obnoxious, flailing tourist that didn't know how to swim.  So annoying.  And if they accidentally touched the whale shark, then it would dive down to a deeper depth where no one could see it.  GRRR.  The crowding was definitely the frustrating part.  They were supposed to limit it to 1 boat of 6 people per shark, but since it was low season still, they weren't enforcing the rule.  Therefore, at any given moment in time there may be as few as 6 or as many as 30.  Word to the wise: protect your head!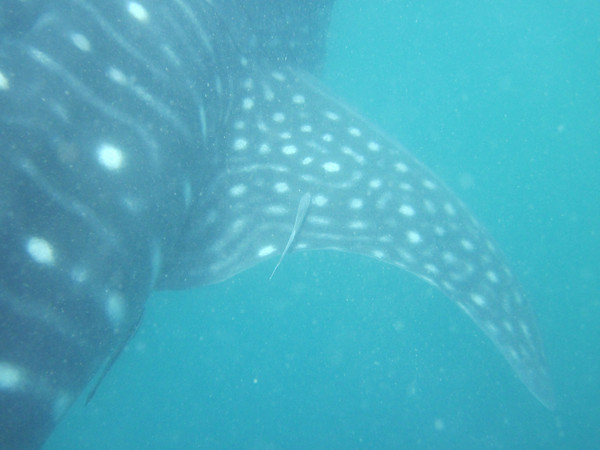 Complaints aside, I'd do it again in a heartbeat!  There's no way to ignore the "awe"someness of nature when side by side with this beautiful creature.  Thankfully, in Sorsogon, the region where Donsol is located, they've created an awareness and preservation program.  Despite that, things still happen to the animals.  One heart-breaking moment was scoping out this giant beast and seeing that his tail had been cut by a propeller.  Nick managed to get a really clear picture of it below.  So sad!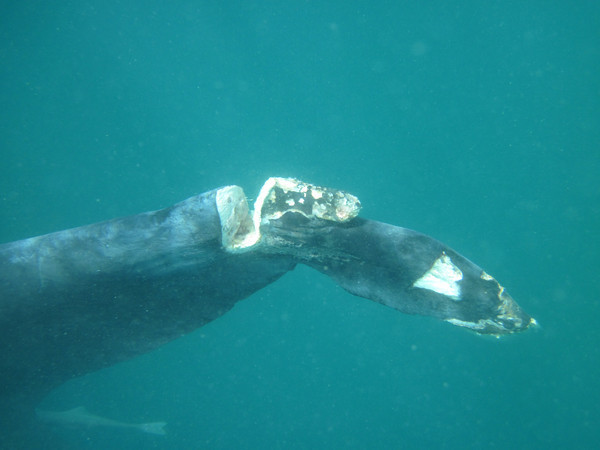 The Stats:
Total time on the water looking for sharks: 8 hours
Injuries sustained: Technically 0, although I have a very nasty bruise on my leg from someone's flipper
False jumps into the water: 6
Number of swims with a shark: 4
Shortest swim: 1 minute
Longest swim: 25-30 minutes
Number of sharks seen: 2 different ones, we think.  We ended up with the cut-tail shark more than once
Value of the experience: PRICELESS