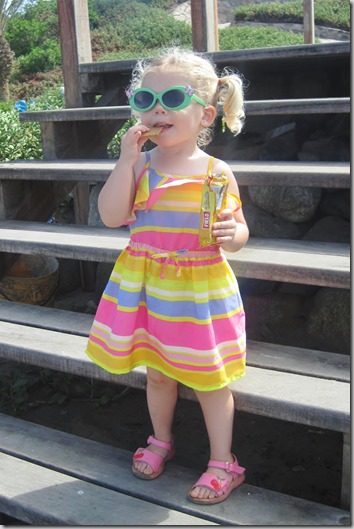 We took advantage of the long weekend for Martin Luther King Day and scheduled our final trip here in Peru.  We weren't originally planning to do any more travel, but we couldn't pass up the opportunity to go to a beach resort with 4 other couples who each have 1-2 year olds.
Paracas is a great weekend trip because it's only 3-4 hours by car (depending on traffic).  We tried it once before when Nia was 9 months and it didn't go well because we picked a luxury hotel that was more geared to adults and Nia struggled with sleeping in a new place.  Thankfully, our experience a year and a half later was DRAMATICALLY different.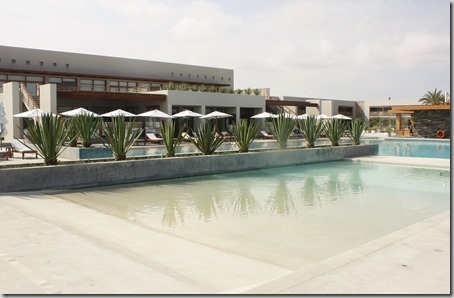 We chose to stay at the uber-kid-friendly DoubleTree hotel this time around and with the non-stop attention of her little buddies, Nia was in toddler heaven.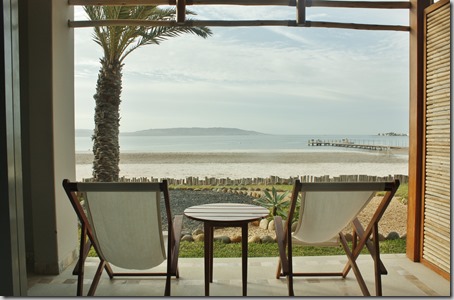 When not hanging out with our friends, we enjoyed the view from our cute little terrace and of course spent lots of time in the pool.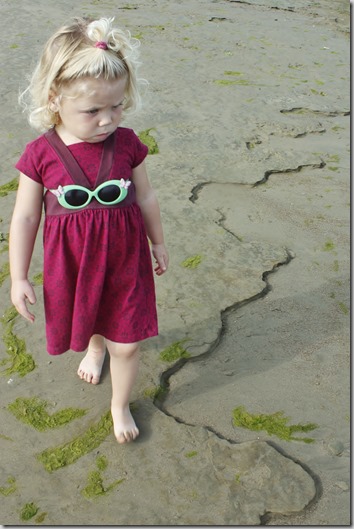 Beach walks were a daily occurrence.  Take note of Nia's new fashion trend.  Glasses on the face are now passé – trendy toddlers sport them around their waist!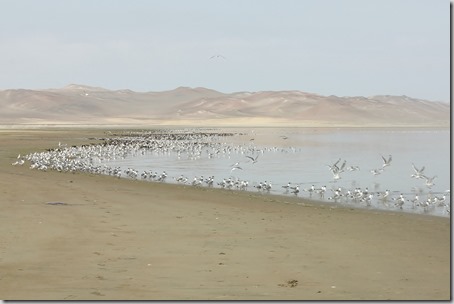 There was an abundance of beautiful wildlife to enjoy on our morning walks.  What I was NOT expecting to see were jellyfish the size of watermelons.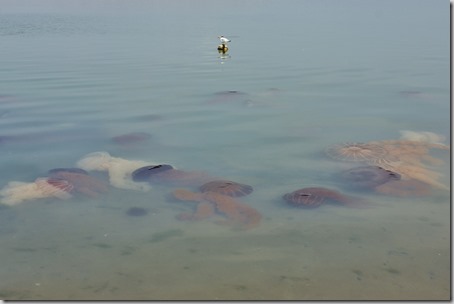 Each morning we'd find large amounts of new jellyfish either floating in the water or washed up on shore.  Honestly, it was a bit disturbing to see so many dead in one place.  And we had to educate Nia not to touch them because they still can sting, even when dead.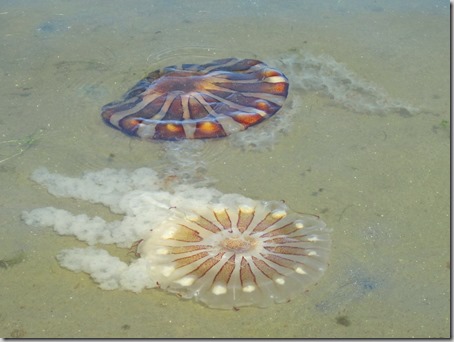 Here are a few that were floating in the water near shore.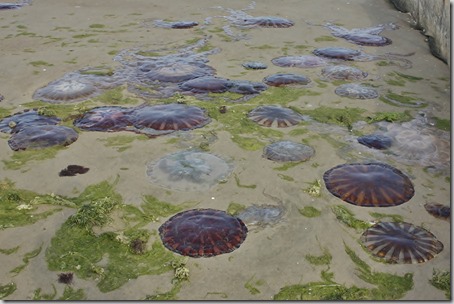 And here's a jellyfish graveyard.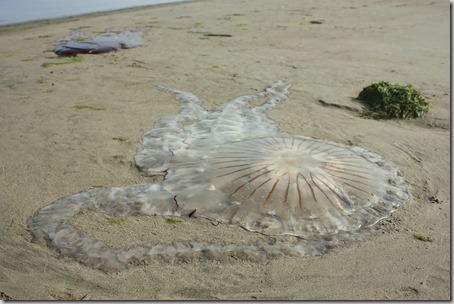 And finally, one especially beautiful one washed up on shore.
It was a full time job paying attention to where you stepped on the beach and in the water to avoid getting stung.  Ironically, that's not where the one injury came from this weekend.  One Dad in our party was wading in the water out at the nature preserve.  He felt something moving by his leg and in his attempt to quickly move away he scared a stingray and got stung.
Stingrays are different than jellyfish in that they actually inject a barb into your skin which emits poison.  Thankfully the barb did not get stuck inside him, but the pain was tremendous and when he returned to the hotel the doctor had to suck the poison out with a special machine.
For those who, like me, are curious about how to avoid stingray injuries, the trick is to shuffle your feet, not pick them up.  When you shuffle you avoid stepping on them and give them time to move away.  Stingrays don't tend to attack unless they feel threatened (aka stepped on), so this trick helps minimize that.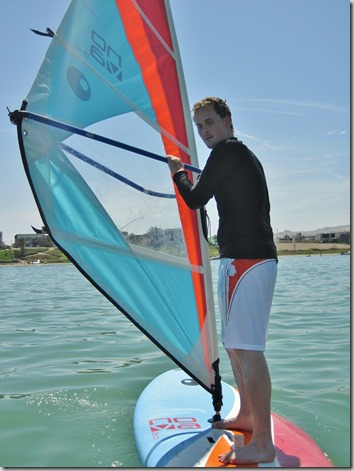 Of course the weekend wouldn't be complete without Nicholas trying out a new adventure sport.  This week's pick was Windsurfing.  He found a package that gave him 6 hours of lessons over the 3 days.  Nia and I even got to go out on a little skiff and watch him up close one morning.
All in all we had a fabulous time.  I would highly recommend the Doubletree to families with kids of all ages.  For romance though, head to the Hotel Paracas down the road.  It's hard to believe that we're experiencing 'lasts' in Peru already but with our leave date in late March (early May for Nick) the end of this tour is right around the corner.  I know I've said this before, but time really flies in our crazy, wonderful life!  Ciao Peru!