Ughhh. I'm embarrassed to write because it's been sooooo long. Was my last post really in October?!!? All I can say is that COVID fatigue has hit hard and writing feels like way too much work. Today I was feeling inspired though, so here I am trying to get back into a blogging routine…
Let's rewind to November so I can get you all caught up! If you'll remember, Nick returned to Mumbai in late September. Nia and I transferred from Bend to Minnesota on October 3rd. We ended up staying in MN a little over a month and finally (after 7 months in the US!) headed back to Mumbai on November 5th. It felt strange but good to be returning after so long. Unfortunately we came home to a torn up home and a hole in our ceiling!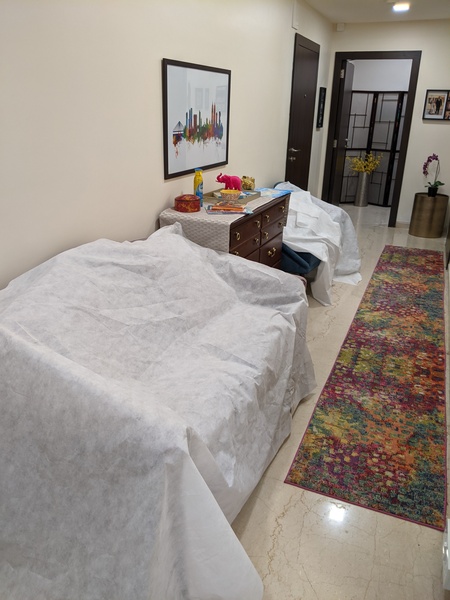 It turns out that during rainy season water had collected between our floor and the one above and eventually weakened the ceiling so much so that it was starting to bow. It took awhile to identify where the leak was and how to seal it up. Once they had that done, they replaced the metal joints which had rusted big time.
Here's a before: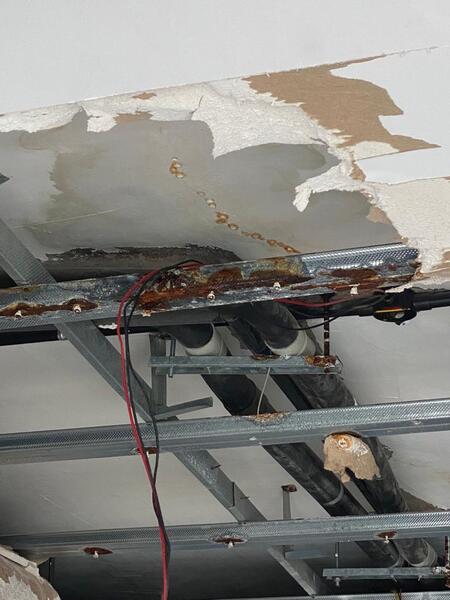 And an after picture for comparison: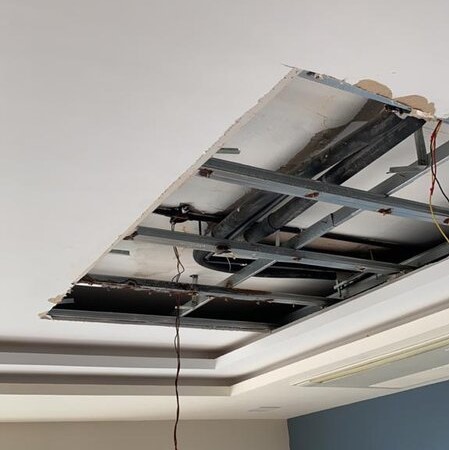 Although housing in Mumbai is crazy-expensive, the craftsmanship tends to be pretty poor so I was certain that it was going to be quite noticeable where the hole had been made. Here's what the ceiling looked like once they patched it up.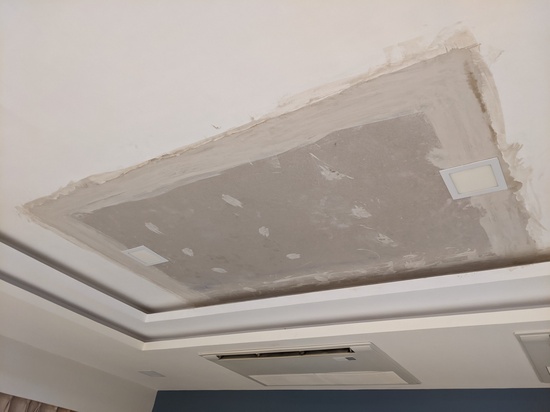 A wide angle shot so you can get a sense of how big the hole was!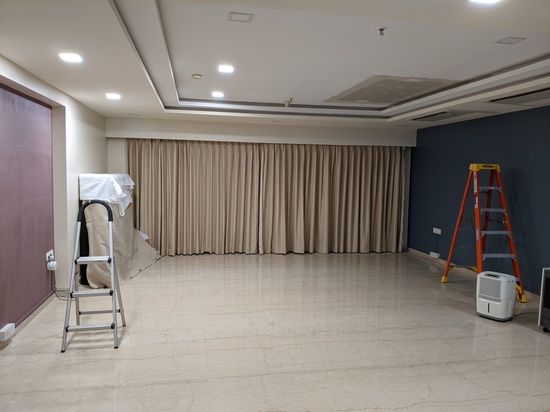 Imagine my delight when the painters walked me over and showed me this!
Not a hint of the mess that had been there just a few days earlier. It was a very pleasant surprise. Granted, it's very possible it'll happen again next monsoon season, as we've had ceiling water problems 2/2 years but at least it will look beautiful until July! :)
I recognize that this has been a hard year for everyone and I know we're fortunate to have a healthy family, jobs that could transition to home and a good virtual schooling option. And yet (because I like to keep it real with you all) it has been tough all the same. I am high-risk because of my Rheumatoid Arthritis so I've made a very conscious decision not to take unnecessary risks. I rarely leave the house and for an extrovert like me, the loss of connection has really taken a toll on my spirits (Nick & Nia definitely help though!). And as I eluded to above, my motivation is very low, so I'm not getting much done. Oddly enough, it still feels like all my energy goes into simply getting through the day.
The first weeks back I found it insanely hard to balance full-time work, moderating school for Nia and doing all the household stuff (our housekeeper quit). I know that in the US it's a luxury to have a housekeeper but here it's honestly a necessity. There is constant dirt, dust and pollution settling on surfaces which requires frequent cleaning. It also just takes a lot longer to do things here than it would in the U.S.
Take dishes, for example. We don't have a dishwasher, so everything has to be done by hand. AND, the sink is about 3 feet high, so I have to kneel on a bolster the whole time while washing. Nia and I have done our best to make it fun though (Nick cooks, we clean up) but it's definitely gotten old.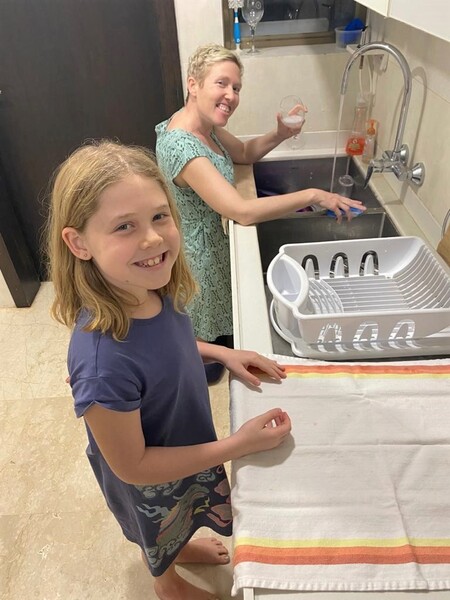 We also get fresh produce twice a week and everything has to be disinfected in a bleach solution before being able to eat it. Take lettuce, for example. First it goes in the bleach solution, then soaks in plain water to get the bleach off, then it has to be spun out and then dried on the counter for a few hours before being put in the fridge. While this process isn't hard, it's just slow and usually sucks up 2-3 hours.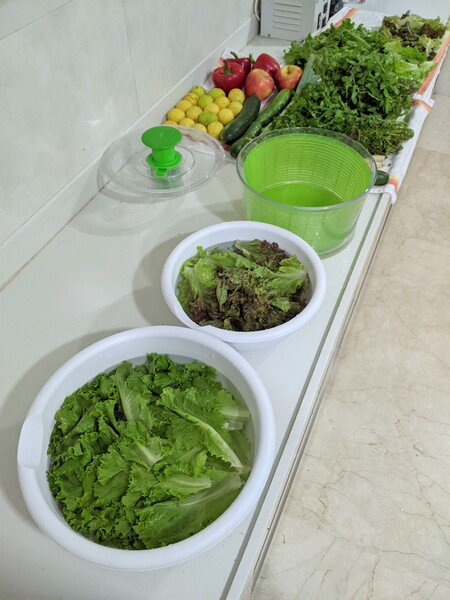 Our apartment also has roughly 2000 sq feet of marble floor + 3 balconies. It takes the entire family 3-4 hours to sweep and mop the entire inside. We should be doing it every week but it's just too much work so we do it every two weeks and just contend with getting black feet for the second week. And we're just ignoring the two big balconies and focusing on keeping the little one clean that we sit out on often. Here's Nia doing balcony duty.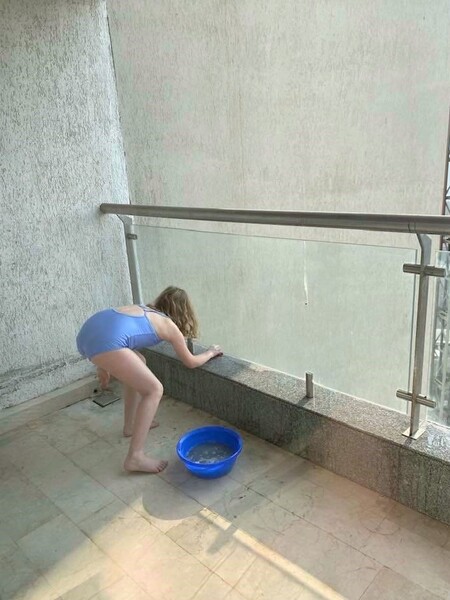 Oddly enough, Nia has really taken to mopping and balcony cleaning. She throws on a swimsuit each time and saturates the floor with water and then slips and slides across the floor. She has come up with some pretty awesome moves where she pushes off furniture and does fancy spins and tricks. I admire her ability to make monotonous tasks fun.
In our first weeks back, the combination of 8 hours of work + 1-2 hours of school help + 2-3 hours of housework each day was leaving me exhausted by the end of each day. I thought I was going to have to quit my job but we came up with an alternative option in which I'm using up a couple hours of my previously accrued annual leave each day. That has made things much more feasible to manage and I'm getting a bit more efficient at the house tasks, so that shaves off time too.
I recognize that these challenges are insignificant compared to what many others are facing. At the same time, the constant house demands and lack of rejuvenation through social interaction have left me really depleted. I hope and pray that I will get the vaccine in the next few months so that I can return to a more normal existence. Thank you for letting me share my experience. Sending strength and resilience out to you all. May you stay healthy and keep coping with the daily challenges that you are handed.
xoxo, Sarah